Tower Bridge i London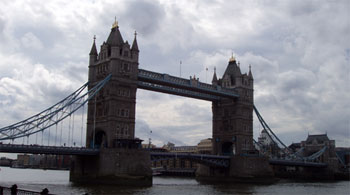 Ett av de mest kända landmärkena och största turistmålen i London är Tower Bridge som ligger vid sidan av Tower of London. Detta är en av de mest kända broarna i världen och består av två torn som är sammanbundna i toppen av en gångbana.

I slutet av 1800-talet ledde den ökade affärsverksamheten i London till behovet av utökad förbindelse över Themsen. En fast bro kunde inte byggas då den skulle hindra de högmastade fartygen från att ta sig fram.

År 1886 började bron byggas och över 70 000 ton betong gjöts i flodbädden vilket utgjorde grunden för bron. Mer än 11 000 ton stål användes till konstruktionen av bron och gångbanorna. Fasaden fick ett utseende som skulle harmonisera med närliggande Tower of London. Åtta år senare, 1894, invigdes bron.

Bron är 244 meter lång och de två tornen är båda 65 meter höga. Mellan tornen är bron 61 meter lång och består av två klaffar som väger vardera 1000 ton. Dessa klaffar kan resas till 83 graders vinkel på 5 minuter för att släppa igenom höga fartyg.

I början drevs klaffarna av ångmaskiner, men under 1974 byttes dessa ut till eldrivna motorer. Delar av de ursprungliga ångmaskinerna finns att skåda i ett museum i ett av tornen.

Förutom ångmaskinerna kan man se filmer, montrar och föremål som kartlägger hela Tower Bridge fascinerande historia, och hur den har verkat under alla år.